Accommodation and Transfers
The ELGS offers accommodation, meal and transfer packages for international or non-commuting participants. For students who require assistance with accommodation and transportation kindly contact info@elgs.eu for more information on the EPLO Guesthouse facilities. The EPLO Guesthouse, located at the EPLO in Sounion (Legraina area),  is comprised of 11 double occupancy bedrooms with bathroom, a common usage fully equiped kitchen and open-air sports courts and gardens all facing the Aegean sea.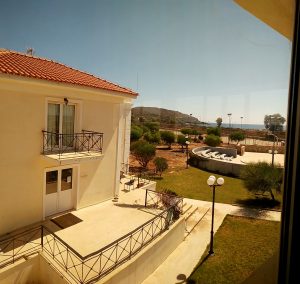 Students may nevertheless choose to make their own accommodation and transportation arrangements. A full list of real estate agencies in Athens is available at the Yellow Pages site www.xo.gr. Useful listings of apartments are the following:
Apart from the location, prices depend largely on the age of building and the floor (usually range between 3 and 7 storey buildings).
The EPLO normally cooperates with the following hotels:
Sounion Area
Eden Beach Resort Hotel
Alexander Beach Hotel
Athens Area
A list with various hotels cooperating with the EPLO can be provided upon request.
Access to the EPLO premises
Transportation from the hotel to the EPLO premise in Athens (Plaka or Kolonaki) will not be offered as it is within walking distance of the EPLO premises. For the Sounion Premises transfers are included.
Some useful info:
The EPLO Kolonaki premises is located in the center of Athens, in the area of Kolonaki, a short walk from Evangelismos metro station.
The EPLO Plaka premises is just a few minutes' walk from the Monastiraki metro station
The EPLO premise in Sounion is located 64 km away from the Athens city center (an hour away by car), and 35 km away from Athens International Airport (half an hour away by car).
You can reach the Sounion premise with public transportation by taking the KTEL ATTIKIS bus line with direction to Sounion from a number of bus stops at the center of Athens.The bus is orange and the sign indicates "SOUNIO-ΣΟΥΝΙΟ". Ask the bus driver to make a stop at "Legraina".
The bus stop is located near the entrance of the premises. The bus from Athens leaves on an hourly basis during the summer. Visit the website www.ktelattikis.gr for further information about the bus timetable.
Notes
Booking of the accommodation package is understood as acceptance of the general Terms and Conditions of the European Law & Governance School. Please note that due to unforeseen circumstances, the ELGS may have to change the hotels students are accommodated in, and also there may be last minute changes to transportation and meal package. Students will be notified in writing of any changes, if at all possible.
The accommodation package is available on a first come first serve basis. As a result students should contact the ELGS Program Officer as soon as possible.