Biolaw and Biomedicine Regulation
in the post-COVID era
November 22-26, 2021
Aim
This intensive course aims at providing specific knowledge about the law that governs the basic topics of modern Biomedicine nowadays in Europe. The lectures cover cutting-edge clinical applications and research activities focusing on challenging legal dilemmas in relevance, the importance of which attracts more and more the interest of a wide scientific and non-expert audience in the post-COVID era.
Triggering Questions
What is the impact of law on advanced medical applications, particularly after the COVID-19 experience?
Does legal regulation hold back the progress of clinical trials and the creation of novel therapies?
Is it time for a common European regulation in IVF, after the Strasbourg Court's judicial activism?
Do we need more specific regulations on data protection in the era of medical "big data", Precision Medicine, and Medical Genetics?
Are there legal rules suitable for regulating artificial intelligence in Biomedicine?
Is the existing legal framework on biomedical patents an "ally" in technological progress
Background information
Over the last decades, the impressive progress in Medicine and Life Sciences triggered an intense production of specific legal rules, covering the most important areas of clinical practice and biomedical research. For the first time, both the legal and the medical community need to be familiarized with the legal regulation which encompasses basic principles of medical ethics, like informed consent, beneficence, medical secrecy, and respect of human dignity.
The COVID-19 pandemic has been a critical challenge regarding the real impact and efficiency of that regulation, as several topics needed to be addressed under the view of public health protection. Issues related to clinical trials, handling of medical data, patenting / benefit-sharing, and compulsory vaccinations are largely discussed in legal and medical contexts yielding sensitive questions in relevance.
This intensive course intends to make known the basic elements of Biomedical Law in Europe, including international and EU legislation, as well as specific case-law. Lectures from European legal experts cover a wide range of topics, focusing on critical dilemmas with the expectation of a vivid interaction with the students.
Ideal for:
Lawyers specialized in medical consulting and litigation
Medical doctors, and health professionals
Professional researchers in Medicine, Life-Sciences, and Social Sciences
Managers, policy advisors in the pharma and health industry
Civil servants and state managers involved in regulatory authorities (Clinical trials, IVF, data protection authorities)
Administrative personnel of hospitals, clinics, laboratories, research facilities
Students (Law, Medicine, Biology, Nursing, Sociology, Political Sciences)
Learning outcomes
Participants are expected to
Demonstrate knowledge and understanding of the European Biomedical Law's basic elements as expressed in the most critical topics of clinical practice and biomedical research
Understand the vital role of regulation in Biomedicine as a crucial factor in scientific and technological progress ensuring the necessary support from society, in the light of "responsible science"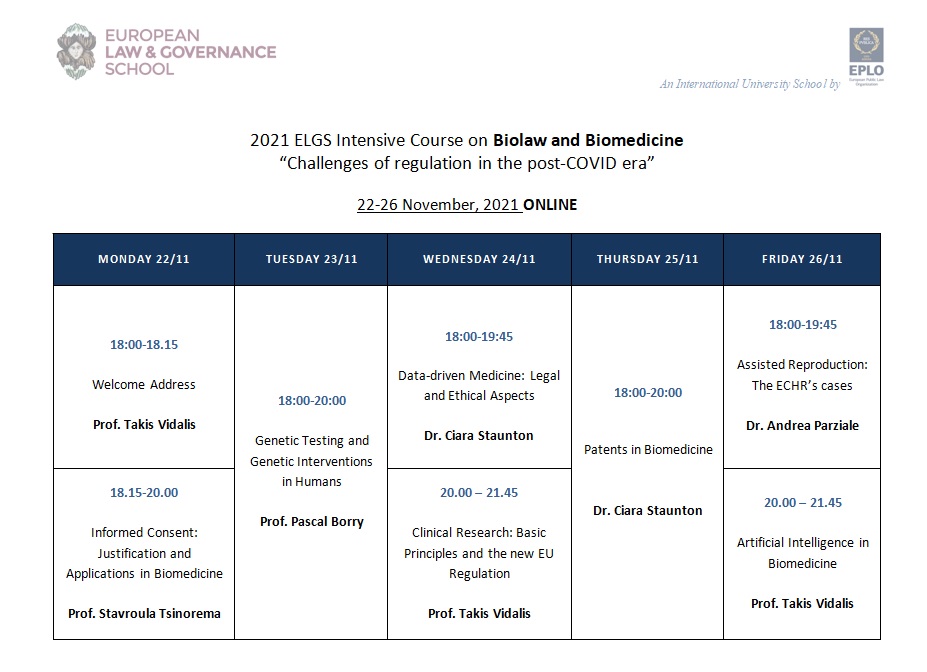 PROGRAM
1. 22/11/2021, 6.00-8.00   Informed Consent: Justification and Applications in Biomedicine
Prof. Stavroula Tsinorema, Professor of Modern & Contemporary Philosophy and Bioethics, Director of the Joint Postgraduate Programme in Bioethics and Director of the Centre for Bioethics of the University of Crete
2. 23/11/2021, (6 – 8 pm) Genetic Testing and Genetic Interventions in Humans
Prof. Pascal Borry, Professor of Bioethics, Leuven University (Belgium), Chair of the department of public health and primary care
3. 24/11/2021, (6 – 7.45 pm) Data-driven Medicine: Legal and Ethical Aspects
Dr. Ciara Staunton, EURAC Research, Lecturer – School of Law, Middlesex University, USA
4. 24/11/2021, (8.00 – 9.45 pm)  Clinical Research: Basic Principles and the new EU Regulation
Dr. P. Vidalis, Hellenic Republic, National Bioethics Commission
5. 25/11/2021, (6 – 7.45 pm) Patents in Biomedicine
Dr. C. Staunton, EURAC Research, Lecturer – School of Law, Middlesex University, USA
6. 26/11/2021, (6 – 8 pm) Assisted Reproduction: The ECHR's cases
Dr. Andrea Parziale, EURAC Research, Adj. Professor LUISS Guido Carli University – Rome
26/11/2021, (8.00 – 9.45 pm) Artificial Intelligence in Biomedicine
Dr. P. Vidalis, Hellenic Republic, National Bioethics Commission
Register Today
The program will be conducted exclusively online. Please send the attached registration form to info@elgs.eu to enroll to the program.
Cost
250€ for professionals, 180€ for students. To be paid in whole prior to the commencement of the program.
Payment Information
Please forward your payment  via bank transfer:
a) For International participants:
| | |
| --- | --- |
| BANK NAME: | ING BELGIUM NV |
| BENEFICIARY NAME: | EUROPEAN PUBLIC LAW ORGANIZATION |
| SWIFT CODE: | BBRUBEBB |
| IBAN: | BE42 3631 5730 6354 |
b) For Greek Participants:
| | |
| --- | --- |
| BENEFICIARY NAME: | ΕΥΡΩΠΑΙΚΟΣ ΟΡΓΑΝΙΣΜΟΣ ΔΗΜΟΣΙΟΥ ΔΙΚΑΙΟΥ |
| IBAN: | GR22 0171 7590 0067 5911 4764 785 |
| BIC: | PIRBGRAA |