The ELGS organizes special programs each summer on current topics related to the fields of law and governance, which draw on key experts from throughout the world.
Through the programs, participants are granted the opportunity to explore the political, institutional, regulatory and supervisory frameworks of evolving fields of law, primarily related to European and International integration.
CURRENTLY  OPEN FOR APPLICATIONS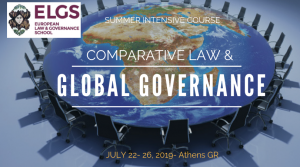 ELGS Summer Intensive on Comparative Law & Global Governance
July 22-26, 2019 
This week-long program discusses the latest developments on Global and European governance and covers both constitutional and institutional issues, global administrative law, and issues of soft governance.
Designed for: Master's level students from all fields of social sciences such as law, politics, economics, sociology, history, philosophy and international relations, as well as political scientists, civil servants, lawyers and officials of international organizations and domestic administrations who seek ways to continue their education. The participants will attend classes in the various fields conducted by eminent professors from prestigious Universities from all over the world. All the courses will be seminar-like classes and colloquia, and the active class-participation will be encouraged.
Structure of the Program: comprised of three-hour sessions taking place twice a day. The program takes place at the EPLO facilities in Sounion which are located one hour away from Athens by car, overlooking the Aegean Sea.
2018 Program _ New Program to be uploaded soon
Is there a Global Constitution? Lorenzo Casini
Globalization and the New Nationalism-  Philippe Cossalter
The Administrative State under Siege-  Giulio Napolitano
Is there a Supranational Constitutional Review?-  Marta Cartabia
Where is the European Union going?  Sergio Fabbrini
The Problem of the European Union Budget- Massimo Bordignon
Where are we with Brexit? Federico Fabbrini
The Crisis of Democracy- Pasquale Pasquino
The Death of Expertise- Tom Nichols
Cost of the Program: 550€ which covers tuition, light working lunch on a daily basis, and transportation on the day of the site visits.
Applications are accepted until June 21, 2019.
How to apply: Applicants should submit an updated CV and letter of motivation in English to info@elgs.eu  Information at T: +30 211 311 0 671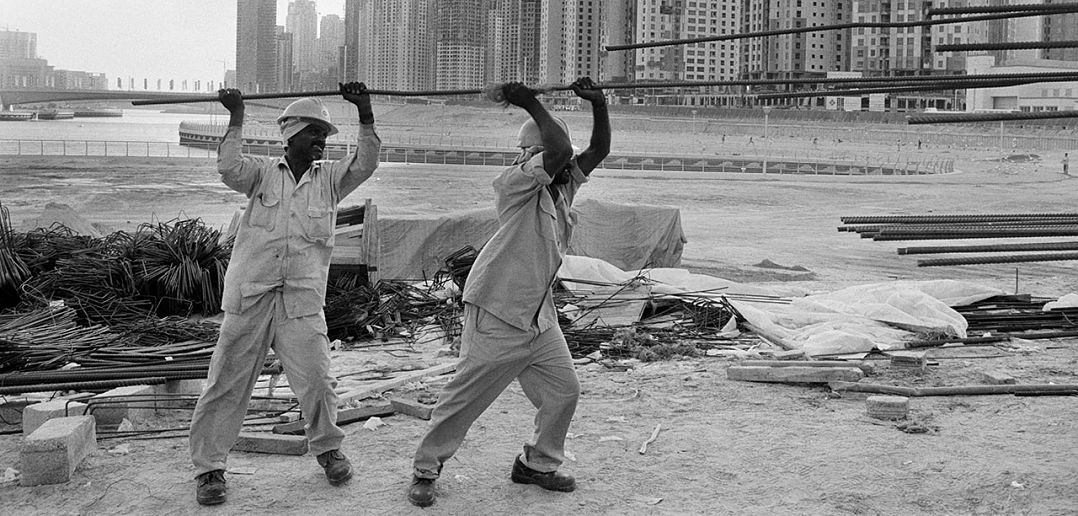 3rd MIGRATION SUMMER SCHOOL
A unique summer program with on-site visits in Greece
Α 7-day program in English will offer a state-of-the-art overview of the most important theoretical debates and research findings on migration, precarious work, human trafficking and social exclusion.
Open for Practitioners and Master's level Students of all disciplines (i.e. Sociology, Social Policy, International Relations, Human Rights, Economics et al.)
On-Site Visits to Reception Facilities & NGOs
Meet key academics and experts working in the field
PhD Candidates can receive feedback on their work
The 2018 MIGSS focused on Precarious Labour, Human Trafficking and Social Exclusion in Europe
Over the past years, Europe and especially Southern European Countries have faced the largest flow of refugees and immigrants in their recent history. No one can ignore the social controversies, the policy inadequacies and the tragedies that accompany migration as well as the precarious lives that immigrants, asylum seekers and refugees of all ages and genders must endure. They battle to survive in the social margins while their social and human rights are encroached upon. According to the United Nations, it is estimated that there are more than 244 million international migrants living abroad worldwide and at least 21.3 million are refugees, 3.2 million asylum seekers and 65.3 million individuals were forcibly displaced worldwide as a result of persecution, conflict, generalized violence, or human rights violations. Moreover, most of the international migrants are employed, voluntarily or not, in precarious, low status/low-wage jobs and personal services. These jobs are characterized by inequalities in survival and everyday life, inequalities in income and social protection. Due to the way of work and employment, the life of the workforce is at risk, as well as its freedoms and potential for progress and social development. Of these, approximately 45.8 million people are in some form of modern slavery, according to the Walk Free Foundation. Immigrants and refugees have become part of a cheap workforce reserve that is continually renewed while the division of labour prompts and entraps migrants into wage labour and low-status/low-wage jobs, distinguishing them by class, gender, race-nationality and religion and way of entrance into a country. The labour that migrants are exposed to is not only characterized by precarity, low status and low wages, exploitation, flexibility and instability, isolation and individualization, but also by decollectivization, or in other words by alienation from family, community, collective, networks of solidarity and labour rights. Precarious work is employment that lacks all the standard forms of labour security and is characterized by low wages, insecurity, exceptionally limited social benefits and legal rights, and high risks of ill health and creates barriers to labour organization strategies due to the isolated, atomized and non-unionized nature of immigrant employment. The exploitation of the process of migration has taken on the characteristics of forced labour of migrants and asylum seekers, who are deprived of basic human rights and are subjected to social exclusion. The key element inherent in the phenomenon of human trafficking, is the vulnerability they are subject to. The multiple causes, economic, political, social and cultural that activate human trafficking have their roots in the present migration system and relations between the sending and receiving countries. The prevailing restrictive European migration policies, the expansion of the informal economy which affect now all of Europe, the continuous rise of personal and care services and the sex industry and the difficult economic conditions are encouraging phenomena of social pathology such as that of human trafficking.
In this context, the course "2nd Migration Summer School (MIGSS) on Precarious Labour, Human Trafficking, & Social Exclusion in Europe" has been carefully designed and developed to provide participants with a comprehensive understanding of issues regarding precarious labour, human trafficking, and social exclusion of immigrants and refugees and a theoretical and practical understanding of contemporary migration in Europe, with a particular focus on the current situation in Europe. This is achieved through lectures and discussions led by international professors and experts, as well as through a day of site-visits to facilities and organizations in Athens that support refugees, asylum seekers, and immigrants. This program has been organized by the European Law & Governance School, and was operated out of the EPLO's premises at Sounion, Greece from the 26th of July to the 1st of August, 2018.
2018 Program
The"2nd Migration Summer School (MIGSS) on Precarious Labour, Human Trafficking & Social Exclusion in Europe" was taught by academics and practitioners from European and international universities, institutions and research centers:
Bridget Anderson, Professor of Migration, Mobilities and Citizenship, University of Bristol, United Kingdom.
Giovanna Campani, Professore ordinario, Dipartimento di Scienze Formazione e Psicologia, Pedagogia generale e sociale, Università degli Studi di Firenze (UniFI).(TBC)
Emily Pia,  Political Scientist, Resident Lecture of the ELGS
Iraklis Moskoff, PhD, Greek National Rapporteur on Trafficking in Human Beings, Hellenic Ministry of Foreign Affairs.
Daniel Esdras Special Envoy of the DG of the IOM, Advisor to the Regional Director for the Mediterranean.
Theodoros Fouskas, Sociologist, PhD, Laboratory Associate (2016-2018), Department of Social Work, Technological Educational Institute of Athens, Greece.
Lefteris Papagiannakis, Dep. Mayor for Immigrants, Refugees and Municipal Decentralization Municipality of Athens, Greece.
In conjunction with the seminars, the program included a day of study visits. Athens provides an ultimate setting for carrying out this program, as Athens comprises the main city of temporary or permanent stay for immigrants and refugees in the country and offers a unique environment that facilitates participants' deeper engagement.
Participants were given the unique opportunity to interact with immigrants, refugees and representatives of organizations that provide support to them by conducting a study visit to key locations such as :
Accommodation Center for Migrants and Refugees in Thiva, Central Greece;
Eleonas Open Reception Facility of Third-Country Nationals, Attica;
Melissa Network: Network of Migrant Women in Greece, Promoting Empowerment, Communication and Active Citizenship, Athens, Attica;
G2RED – Accommodation Facility for Unaccompanied Refugee Minors, Athens, Attica;
Immigrant and Refugee Integration Center of the Municipality of Athens, Athens, Attica.
Certificate of Attendance
Participants at MIGSS will be awarded a certificate of attendance at the end of the program, after demonstrating their full and active participation throughout the seven-day course. The program does not require any written work to be submitted, nor exams to be taken.
Credits info
8 ECTS : Participants who wish to obtain ECTS will have to submit an essay after the end of the Summer School of approx. 5.000 words on a topic related to the lectures of the MIGSS and supervised by a lecturer of their choice. Deadline for essay submission: 2nd September 2019. The best paper wll have the opportunity to submit their paper for publishing in a peer-reviewed journal of the EPLO .
Practical Information:
Accomodation
Students are invited to secure their own accommodation and transportation, or may opt for an accommodation package that is provided through the EPLO. Participants in the program are accommodated at the seaside premises of the EPLO at Sounion, Greece or at a partner hotel. Accommodation is on a first-come-first-serve basis and students interested in this package should inquire at iskrapa@eplo.int.
Facilities
Classes will take place daily at the seaside premises of the EPLO at Sounion, Greece, except for the day of site visits. Participants will have access to the facilities of the EPLO which include a library, study room, and sports facilities. Students are encouraged to bring a laptop and will be sent relevant reference and reading material via digital means including statistics, maps, reports, scientific articles on immigration and refugee crisis and presentations used by the speakers.
Addressed to:
As this program is interdisciplinary in nature, it is open to all disciplines (such as Sociology, Social Policy, International Relations, Human Rights, Economics et al.) and applicants are welcome from the postgraduate level and up, PhD candidates, researchers, NGOs professionals. Doctoral students and researchers will have the opportunity to present their PhD/research at the PhD Seminar, pending a minimum of five students are enrolled in the seminar.
Cost of the Program: 500€ which covers tuition, light working lunch on a daily basis, and transportation on the day of the site visits.
Applications until June 21, 2019
How to apply: Applicants should submit an updated CV and letter of motivation in English to info@eplo.int, T: +30 211 311 0 671
The program takes place at EPLO facilities in Sounion one hour away from Athens by car, overlook the Aegean Sea and are located by the bay of Cape Sounion, where the ancient Temple of Poseidon rests.