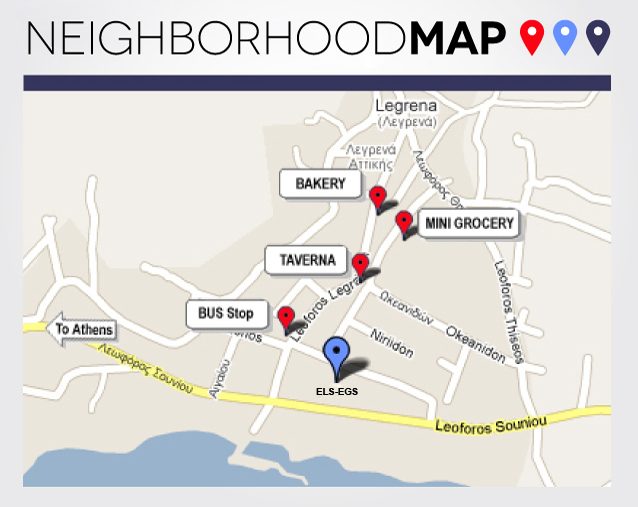 [dropcap type="circle" color="#fff" background="#35355c"]T[/dropcap]he ELGS campus, overlooking the Aegean Sea, is located in the Legraina area by the Cape Sounio, home to the ancient Greek Temple of Poseidon, the ancient God of the Sea in the classical Greek mythology, and the southern tip of the Attica Prefecture in Greece.
The numerous white sand beaches and turquoise blue waters of the Aegean Sea, as well as the vast greenery fields of Sounio, surround the campus.
Fish and traditional cuisine taverns and bakeries are located within walking distance of the campus, while the Palaea Phekaea and Saronida residence areas where many restaurants, cafes and shops are located are less than 1 km and 5 km away respectively.
The campus is about 64 km away from the City of Athens, the capital and largest city of Greece, as well as one of the world's oldest cities, birthplace of democracy and home of the Acropolis.
Athens is also home to the Ancient Agora, the Odeon of Herodes Atticus, several archaeological museums, including the famous Acropolis Museum, the National Archaeological Museum, the Museum of Cycladic Art, the Benaki Museum and the Byzantine and Christian Museum . Athens, a vibrant City, is also known for its shopping, restaurants and nightlife.