General Info
Capital of Greece: Athens
Official language: Greek
The currency: Euro(€)
Climate: Mediterranean
Population: 11.306.183 (2010 estimate)
The country is a Presidential Parliamentary Democracy
Calling code: The international calling code of Greece is +30
Athens: A Living City
Athens is one of the most interesting European capitals, filled with juxtapositions of new and old, east and west. It is at once cosmopolitan and marked by its extensive history, and on the other hand extremely populous and full of contradictions. One thing is obvious to all travelers: its warm and hospitable people.  Once visited, it quickly becomes your home.
Greeks are known for a form of hospitality called "filoxenia", a word that has no translation in the English language, but which can be sensed and felt by visitors. It is a form of friendliness and service that goes far beyond a gesture of good will. It is a behavior rooted in ancient times and traditions, which projects the pride of a people considering hospitality a sign of culture and education. Watch a video about Athens here
Capital and largest city of Greece, a place full of attractions
Athens is the historic capital of Europe as it has been inhabited since the Neolithic Era. Through the course of its long, fascinating history, it reached its zenith in the 5th century B.C. (the "Golden Age of Pericles"), a period when its values and its culture crossed the geographical borders of the city and spread worldwide. Political thinking, theater, arts, philosophy, science, architecture and so many other human intellectualities reached their zenith in a unique time coincidence and spiritual completion.
Hence, Athens became the core of western civilization, while many Greek words and understandings such as democracy, harmony, music, mathematics, art, gastronomy, architecture, logic, Eros, euphoria and many more, enriched various languages and inspired different civilizations.
Find out more here also here  and at Wikipedia
Top 10 Attractions
Acropolis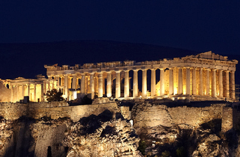 The sacred rock of the Acropolis and its most recognized monument, the Parthenon, have withstood the test of time. Natives have often commented on its commanding presence that is instilled in their daily life.  But nothing compares to witnessing its grandeur up close and in person.  The archeological park, known as the Unification of Archaeological Sites, (4.7 km or 3 miles wide) that surrounds the Acropolis, encompasses some of the world's most ancient treasures. Read more
The New Acropolis Museum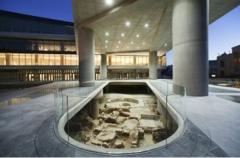 Years in the making, this museum and its creative use of natural Greek light is the new gem of Athens and has been heralded as a masterpiece in itself. The permanent collections present finds and artifacts from the sacred hill of the Acropolis, while smaller «vignette» temporary exhibits offer insight on the whole. Read more
National Archaeological Museum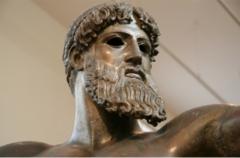 One of the richest museums of ancient Greek art in the world, its collections span cultures that flourished in Greece from the prehistoric age and beyond. A bronze statue of Poseidon is here as are frescoes from ancient Thira. A comprehensive museum that is often overlooked.
Read more
Greek Parliament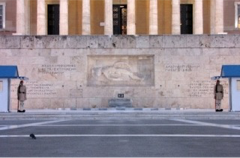 The Greek Parliament and the Tomb of the Unknown Soldier. Every vacation portfolio should not be without a photo alongside the tall, commanding Presidential Guards, known as evzones or tsoliades.  It is worth the wait to witness the changing of the guards, a ten-minute ceremonial procedure that takes place every hour on the hour. The foustanela or skirt that is part of their uniform is made up of 400 pleats, each one symbolizing a year that Greece was under Turkish rule. Read more
Panathenaic Stadium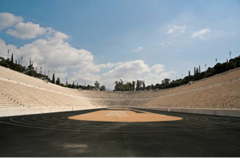 This must-see monument opposite Zappeion Gardens on Vassileos Konstantinou Avenue is the stadium that hosted the first modern Olympic Games in Athens in 1896.  The stadium, first built in 330 B.C., is made of white marble from the mountain Penteli and has a seating capacity of 45,000 for the concerts and events. Read more
Lycabettus Hill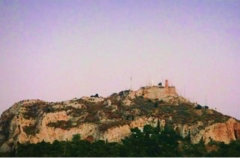 At a height of 277 m. (approximately 1,000feet), Lycabettus Hill is perhaps the best spot in which to get an aerial view of the city.  Visible from here is the Acropolis, the port of Pireaus, and the island of Aegina. If a mini-trek up is not appealing, take the cable car to the top (and back down). The entrance is on the corner of Aristippou and Ploutarchou streets. If you decide to walk down the forest path you will encounter Dexameni Square in Kolonaki, where you can grab a bite to eat. Read more
Ancient Agora, Monastiraki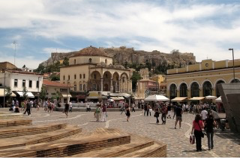 It's befitting that this monument, the center of commercial and business life in ancient times, would later give rise to the buzzing shopping district that surrounds it today. Of course, Monastiraki does not compare to the milieu of the Ancient Agora, but it still continues to inspire those who live, work and visit the area. Read more
Plaka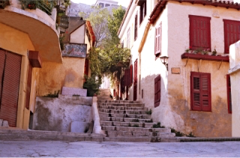 With its undisputable charm, this area is one of the most frequented by visitors and natives alike. Plaka's winding pathways carry thousands of years of history. Walk amongst the buildings whose facades are dressed in 19th century neoclassical design and architecture. Dine at one or several of its restaurants. And explore the ancient monuments, contemporary museums and traditional souvenir shops throughout. Read more
The Attica Coastline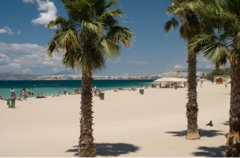 Athens is surrounded by pristine beaches, where you can swim for many months during the year. Visit a beach in Athens and you are likely to feel like you're on a Greek island, as you are greeted with stretches of crystal sands, fine pebbles and blue, clean waters. Both the tram and bus take you to nearby, organized beaches (some offer water sports) in Faliro, Alimos, Kalamaki, Glyfada, Schinias and Varkiza in less than an hour. A promenade at the Flisvos Marina  is a great destination for all ages, at any time of year. Read more
Temple of Poseidon-Cape Sounion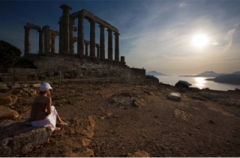 Take a road trip to the southernmost tip of Attica for a breathtaking drive along the coastal highway and you are rewarded with a visit to one of the most fascinating temples in ancient history.  It is no wonder that the ancient Greeks built the temple to their sea god Poseidon here in Sounion.  Situated on a plateau on the top of a cliff it welcomes ships and sailors even today.
Related Links
MUSEUMS, MONUMENTS, ARCHAEOLOGICAL SITES
http://odysseus.culture.gr/index_en.html
ACROPOLIS MUSEUM

Explore the Acropolis Museum
OPERATING HOURS

List of Museums and Archaeological sites with extended operating hours
MINISTRY OF CULTURE

Visit the Ministry of Culture site.
GREEK NATIONAL OPERA

Visit the official site of Greek National Opera and find out the program.
NATIONAL THEATRE

Visit the National Theatre's site and find out the current theatrical plays.
Cost of Living
Below you can check a list with indicative prices for a number of everyday products and services:
Museum tickets 4-12€
Theater tickets from 20€
Cinema tickets 7-10€
Sandwich from 2 €
Souvlaki from 1.80€
Big bottle of water 1€ ( small bottle 0.5€)
Greek coffee "to go" from 1€
Cappuccino coffee at a café 2 -5€
A refreshment at a kiosk 0.70€
Drink at a bar from 5€
Full meal (starter, main dish, dessert, not including drinks) between 20-40€
1, 5 hour ticket for all means of transport (metro, buses, trains) 1.2€
Events and festivities
Athens has a full calendar of festivals throughout the year.
-New Year's Day: 1st of January
-Epiphany: 6th of January. Sea water is consecrated in the area of Piraeus. The priests throw the Cross into the sea and young men dive to catch it.
-Ash Monday: 41 days before Easter. It is the day people begin the Lent. On Ash Monday Greeks fly kites, eat meatless food and celebrate Koulouma. Athenians gather on Philopappou Hill.
–Independence Day & Celebration of Evangelismos: 25th of March. Military parade.
–Easter: From Holy Friday until Easter Monday. On Holy Friday evening every church decorates the Epitaph (Bier of Christ). During the procession of the Epitaph the streets of every city or village in the country are full of people. It is a religious procession where everybody holds lit candles in their hands and sings hymns.
-Night of the Resurrection: It is celebrated in midnight before Easter Sunday with fireworks and candles.
-Easter Sunday: On Easter Sunday Greeks eat barbecue lamb. The celebrations include singing and dancing all day long.
–Labor Day: 1st of May. Flower feasts all around Athens.
-Pentecost: It is celebrated 50 days after Easter.
-Assumption of the Virgin Mary: 15th of August.
-28th of October: National Celebration. Military parade.
-Christmas: 25th-26th of December.
Activities in the city
Leisure and Culture
Cultural events including dance and theater, recitals, concerts, conferences, public lectures, gallery exhibits, sports events and marathons are an integral part of the cosmopolitan capital.
Major Theatres in Athens:
The "Hellenic Festival" was established in 1998 for the organization of music, theater, and other cultural events. Visit the official site for more info http://www.greekfestival.gr/
The National Theatre of Greece at Pireos st., stages drama performances in modern Greek with English translations provided.
More info on http://www.n-t.gr/en/
The Odeon of Herodes Atticus, is a stone theatre structure located on the southwest slope of the Acropolis of Athens. It was built in 161 AD. Today it provides one of the most important open-air venues and stages the annual Athens festival.
Megaron, the Athens Concert Hall is situated on Vasilissis Sofias Avenue, next to the American Embassy. The Megaron Hall hosts operatic, dance and drama performances in two halls.
Also worth visiting:
The Ancient Theatre of Epidaurus is situated within the archaeological site of the Sanctuary of Asclepius, in the Argolis prefecture of the Peloponnese. It is a half-hour drive from the city of Nafplion and approximately two hours from Athens.
Related Links
Embassies and Consulates in Greece
WEATHER FORECAST
meteo.gr

Weather report for Greece
MUSEUMS
http://www.visitgreece.gr/en/culture/museums
HOTELS
Find hotels and campings in Greece.
ATHENS INTERNATIONAL AIRPORT
Athens International Airport – Eleftherios Venizelos.
BUSINESS FEDERATION OF RENTED ROOMS AND APPARTMENTS
Find rooms and appartments to rent in Greece.
DISCLAIMER: This information in this page is derived from the official site of the Greek National Tourist Organization http://www.visitgreece.gr/ and the official website of the Municipality of Athens for tourist information http://www.thisisathens.org/. The EPLO is just reproducing the information that appears in those sites. For more official and updated info please visit them accordingly.