Training for journalists on how the EU works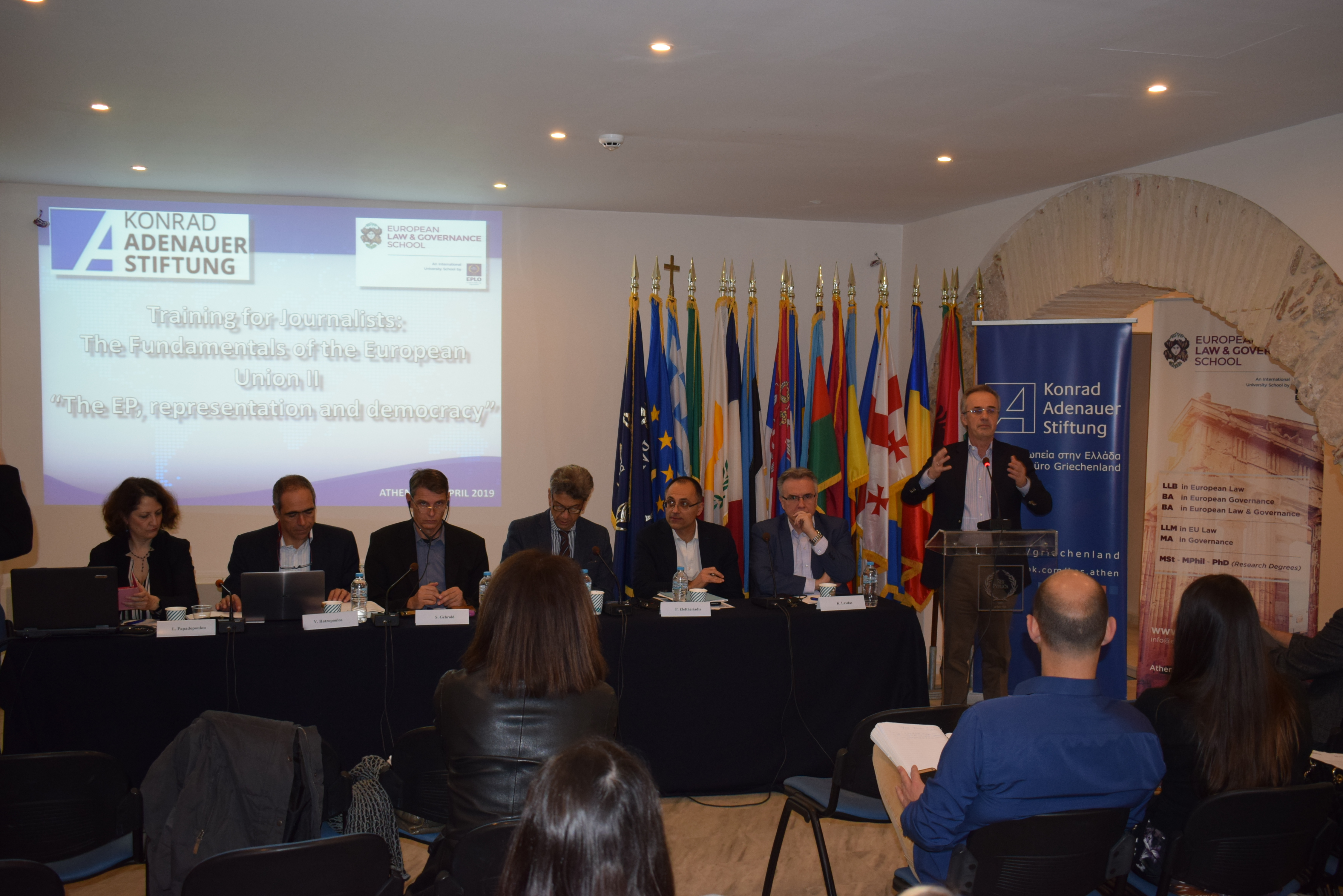 Saturday, 06 April and 13 April 2019
The European Law and Governance School (ELGS) of the EPLO and the Konrad-Adenauer-Stiftung Foundation for Greece and Cyprus co-organized a seminar in Greek and in English on the occasion of the upcoming European elections under the title «Training for Journalists: The Fundamentals of the European Union».
The seminar took place on 6 and 13 April, 2019 at the EPLO premises at the Roman Agora (Plaka), Athens between 10:30 and 14:30
This seminar was addressed to journalists of the print and electronic press who cover European and international issues, as well as young professionals and students of journalism. Members of the European Parliament and important academics from European Studies, Law and Political Science were discussed, inter alia, the EU's institutional organization, the role and responsibilities of the European Parliament and its relations with the national parliaments and governments, as well as the involvement and importance of lobby groups in Brussels.
The purpose of this seminar was to inform on how the EU works thus achieving accurate and credible information for citizens and at the same time tackle effectively phenomena of misinformation and fake news.
Well-informed journalists can help awaken the European reflexes of society and achieve the widest possible participation of citizens in the European elections of 26 May, at a turbulent time for the Union.
A Certificate of Attendance will be provided by the European Law and Governance School.
The attendance at the seminars was free of charge.
PROGRAM
Athens| 06april 2019 | EPLO premises, Plateia Poikilis and Dioskouron – Plaka
Training for Journalists: The Fundamentals of the European Union I- "The EP, representation and democracy"
Working languages: Greek and English
 10:00h              Registration
 10:15h               Welcome Remarks
For KAS: Eleftherios Petropoulos, Project Manager, Konrad-Adenauer-Stiftung, Greece and Cyprus Office
For the ELGS: Vassilis Hatzopoulos, Provost of Undergraduate Studies at the ELGS; Professor of European Law and Policies,  Panteion University, Athens and College of Europe, Bruges
10:30h               Discussants
Susannah Verney, Associate Professor of European Integration, National and Kapodistrian University of Athens
How about 'Public Opinion, the European Parliament and the Euroelections'? Η Κοινή Γνώμη, το Ευρωπαϊκό Kοινοβούλιο και οι Ευρωεκλογές?
Dimitris Keridis, Professor of International Relations, Panteion University, Athens
The elusive quest for the European demos: how to make democracy at the EU level work without a nation? Η αναζήτηση για τον ευρωπαϊκό Δήμο: πως να λειτουργήσει η δημοκρατία στο επίπεδο της ΕΕ χωρίς έθνος;"
Nefeli Tzanetakou, Doctoral candidate, Panteion University, journalist at ERT, Athens,
Lobbying the EP: the case of Energy  Policy/Lobbying στοΕυρωπαϊκό Κοινοβούλιο: η περίπτωση της πολιτικής ενέργειας.
George Pagoulatos, Professor of European Politics and Economics, Athens University of Economics and Business and College of  Europe, Bruges
Facing the European Elections: Prospects and Challenges/ Προοπτικές και προκλήσεις ενόψει των ευρωεκλογών
Moderation: Vassilis Hatzopoulos
14:30h               End of Seminar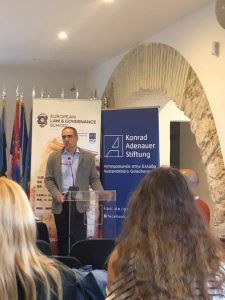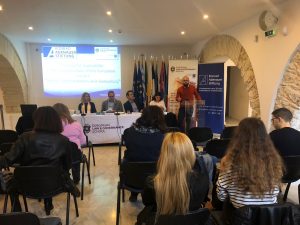 Athens | 13 april 2019 | EPLO premises, Plateia Poikilis and Dioskouron – Plaka
Training for Journalists: The Fundamentals of the European Union II- "Decision making within/outside the EU framework: the role of the EP"
Working languages: Greek and English
10:00h               Registration
 10:15h               Welcome Remarks
Henri Bohnet, Director, Konrad-Adenauer-Stiftung, Greece and Cyprus Office
Ioannis Politis, Journalist, Spokesman EPLO
10:30h               Discussants
Stefan Gehrold, Member of the European Parliament (CDU)
The main challenges for the EU after the elections as seen from Germany / Οι κυριότερες προκλήσεις για την ΕΕ μετά τις εκλογές – Η γερμανική οπτική
Lina Papadopoulou, Associate Professor of European and Constitutional Law, Aristotle University of Thessaloniki
Representation without Parliamenterianism: What are the Stakes? Αντιπροσώπευση χωρίς κοινοβουλευτισμό; Ποιο είναι τότε το διακύβευμα;
Kostas Lavdas, Dean of Governance Studies, ELGS, Professor of European Politics and Interest Groups, Panteion University,  Athens,
Coalition Politics and the future of the Union: the new composition of the EP/ Πολιτική συμμαχιών και το μέλλον της  Ένωσης: το Ευρωπαϊκό Κοινοβούλιο με τη νέα σύνθεση
Pavlos Eleftheriadis, Professor of Public Law, Oxford University
International Trade Agreements and the European Parliament/ Διεθνείς εμπορικές συμφωνίες και Ευρωπαϊκό Κοινοβούλιο. BREXIT
Michalis Angelopoulos, Mayor of Samos Island, Greece; Vice President of the Congress of Local and Regional Authorities of  the Council of Europe
Can local authorities influence the EU decision making? Mπορεί η Τοπική Αυτοδιοίκηση να επηρεάσει τις αποφάσεις των Ευρωπαϊκών θεσμικών οργάνων;
Moderation: Vassilis Hatzopoulos, Provost of Undergraduate Studies at the ELGS; Professor of European Law and Policies,  Panteion University, Athens and College of Europe, Bruges
14:30h               End of the Seminar