ELGS & University of Oslo Conference on EU's Trade and Investment Agreements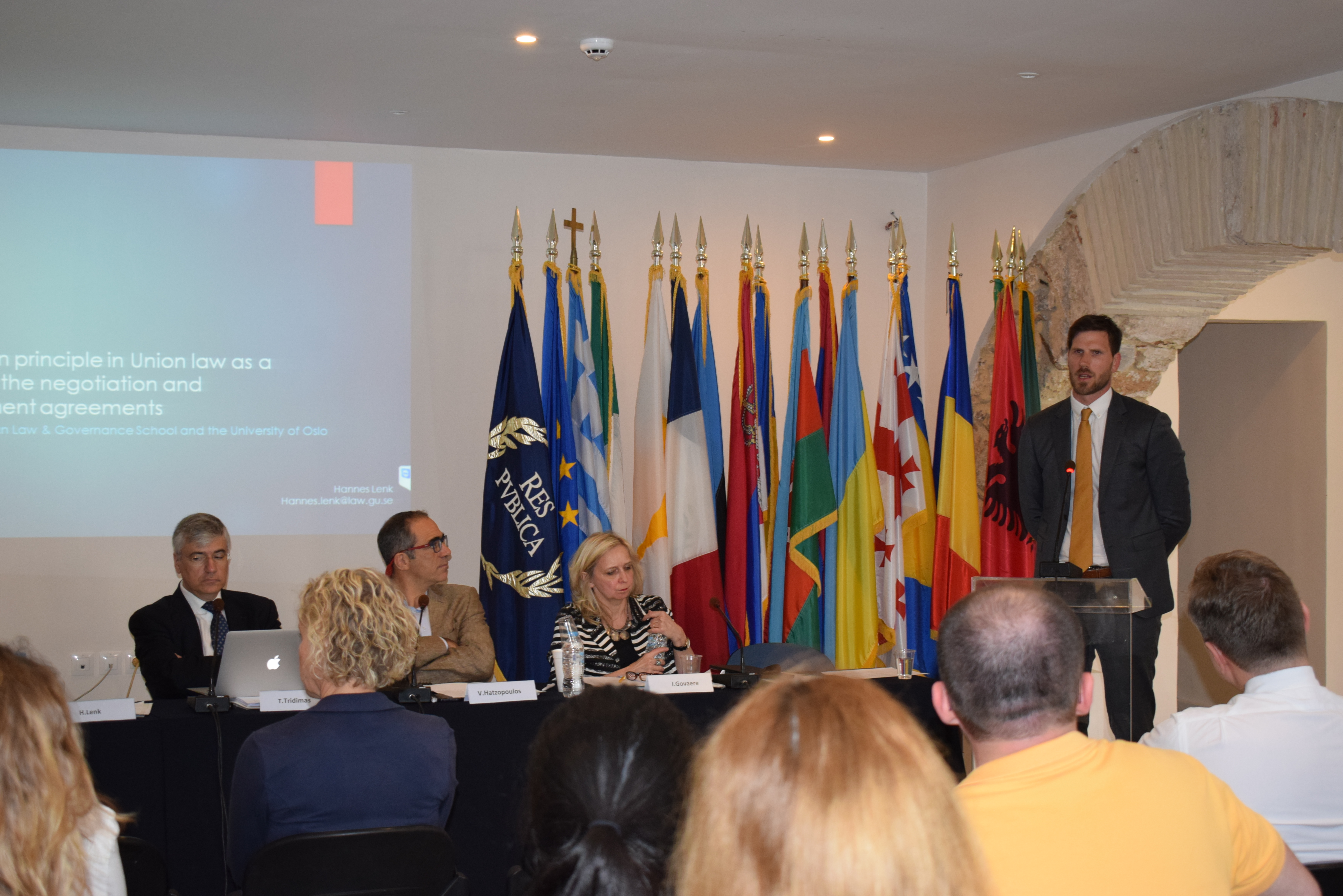 ELGS & the University of Oslo co-organized an International Conference open to the public on EU's Trade and Investment Agreements: Constitutional and substantive issues on  4-5 May, 2018 at the EPLO premises in Plaka and Sounion.
The working language of the conference is English.
No transfer to/from the conference venues is provided by the organizers.
Participation certificates will be given at the end of each conference day.
Please find hereafter the program announced
Friday 4 May, 16.00-20.00 
Venue: EPLO Athens Premises, European Public Law Organization, Poikilis and Dioskouron 2 St., Athens GR-10555
Welcome and introduction 16.15-16.30
Vassilis Hatzopoulos, Provost at the European Law and Governance School & Professor at Panteion University, Athens and College of Europe, Bruges
Session I: 16.30–18.00 Constitutional issues
Chair: Professor Vassilis Hatzopoulos
Professor Takis Tridimas, King's College, University of London
Trends in the Treaty making powers of the EU
Professor Inge Govaere, Ghent University and College of Europe, Bruges  
On imperfect conferral and mixity in relation to EU free trade agreements
Hannes Lenk, PhD candidate, University of Gothenburg
The EU principle of non-discrimination as a constitutional limit for EU investment agreements
Q+A
Coffee Break
Session II: 18.30–20.00.Autonomy of the EU legal order
Chair: Professor Inge Govaere
Professor Panos Koutrakos, City University London
EU autonomy and international investment law
Cristina Contartese, Lecturer PhD, European Law & Governance School, Athens
Intra-EU BITs and their compatibility with EU law
Professor Mads Andenæs, University of Oslo            
BITs between EU Members States after the judgment in Achmea – a comment on C. Contartese
Q+A
Saturday 5 May, 10.00-13.00, 
Venue: EPLO Sounion premises, 64th km Athens-Sounion Avenue GR 19500
Session III: Substantive issues
Single session – Round table 
Chair and discussant: Professor Christophe Hillion, University of Oslo and Leiden University
Anastasios Gourgourinis, Lecturer PhD, Athens Public International Law Research Center
The Right to Regulate in EU Ιnvestment Treaties
Professor Fabienne Peraldi Leneuf, University of Paris I
Mutual recognition of technical standards in European FTAs
Kornilia Pipidi-Kalogirou, PhD student, Speyer University, Germany
Regulatory cooperation in the new EU FTAs and the quest of legitimacy
Professor Ivar Alvik, University of Oslo         
The problem of foreign privilege
Professor Tarjei Bekkedal, University of Oslo
Investment protection and equality before the law
Luca Pantaleo, Lecturer PhD, De Haagse Hogeschool
Dispute settlement in EU investment Treaties
Szilárd Gáspár-Szilágyi, Postdoctoral Researcher PhD, PluriCourts, University of Oslo
Should the Proposal for a Multilateral Investment Court co-opt national courts?