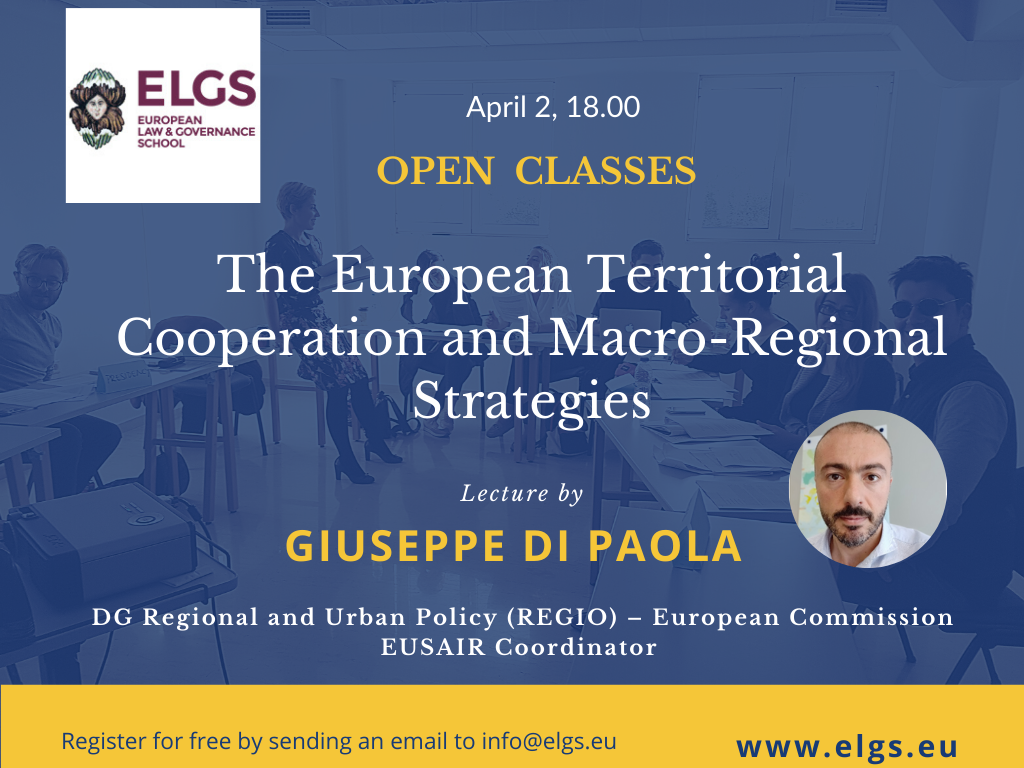 The ELGS organizes a series of lectures every year free for the public On April 2 at 18.00 join us to watch a lecture by Giuseppe Di Paola, DG Regional and Urban Policy (REGIO), European Commision on "The European Territorial Cooperation and Macro-regional Strategies".
Register by sending an email at info@elgs.eu expressing besides your willingness to participate in the course whether you wish to receive info from the ELGS for its programs and news.
Seminar
"The European Territorial Cooperation and Macro-Regional Strategies".
The overarching objective of the European Territorial Cooperation (ETC) is to promote a harmonious economic, social and territorial development of the European Union. It is one of the two goals of cohesion policy and provides a framework for implementation of joint actions between national regional and local actors from different Member States and outside the Union.
A 'macro-regional strategy' is an integrated framework endorsed by the European Council. It may be supported by the European Structural and Investment Funds among others, to address common challenges faced by several Member States and third countries located in the same geographical area, which thereby can benefit from strengthened cooperation contributing to the achievement of economic, social and territorial cohesion.
Giuseppe Di Paola
DG Regional and Urban Policy (REGIO) – European Commission
EUSAIR Coordinator
Giuseppe Di Paola graduated at the University of Napoli l'Orientale in International and Diplomatic Sciences and obtained a Master Degree in "Interdisciplinary research and studies on Eastern Europe" (MIREES) at the University of Bologna.
He has a long experience of cooperation in the Western Balkans as he studied and worked in Sarajevo at the Center for Human Rights of the University of Sarajevo and at the "Organization for Security and Cooperation in Europe" (Sarajevo HQ). Subsequently he worked at the Permanent Secretariat of the Adriatic and Ionian Initiative for about ten years before joining the European Commission in 2018 as Coordinator for the EU Strategy for the Adriatic Ionian Region (EUSAIR) and programme manager for the Interreg Adriatic-Ionian Transnational programme (ADRION).