Call For Resident Lecturers and Fellows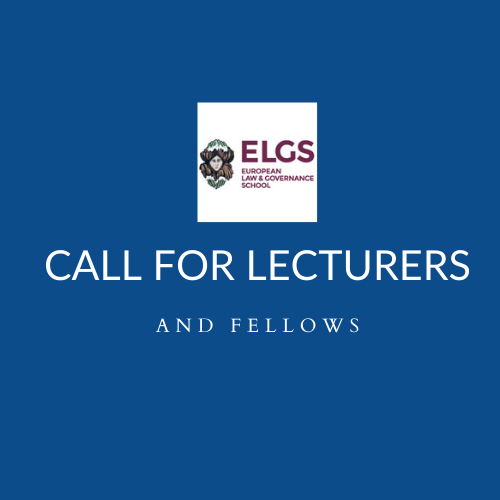 The European Law and Governance School (ELGS) is a higher education institution established by European Public Law Organization (EPLO), an international organization, dedicated to the creation and dissemination of knowledge in the area of Public Law lato sensu and Governance.
The ELGS is headquartered in Athens, Greece and offers undergraduate and postgraduate programs in the fields of European Law and Governance. Moreover, the ELGS runs other educational programs, summer courses and intensive courses on contemporary issues contributing to the public dialogue and stimulating new ideas and challenges. Courses and programs are held both online and in situ and students come from all over the world. The teaching staff is Resident or International.
The ELGS seeks to appointResident teaching staff (up to 4)starting from the 2021-2022 academic year. Appointments are one-year with the option for renewal for up to five years maximum, and shall be subject to a formal employment contract with the EPLO. Resident staff will be awarded the academic title of Lecturer. At the end of the fifth year Lecturers may be offered tenure and the title of Professor.
Resident Lecturers have to:
 teach in the undergraduate and postgraduate programs as well as in the other educational programs run by ELGS or the academic programs affiliated to it, up to a maximum of 234 hours every academic year.
 prepare the structure of courses and their syllabus development, prepare the teaching material and indicate the studying material for the students.
 administer and support the organization ofworkshops, webinars, training activities andopen lectures.
 supervise thesis and assignments.
 conduct research projects, pursue independent research and participate in drafting proposals for funded research programs.
 produce at least one piece of original academic work per year to be published in academic journals of the EPLO and/or in other academic journals mentioning the affiliation with the ELGS.
 participate in the administrative life of ELGS and should show willingness to work in a team. All should also demonstrate enthusiasm for teaching and supporting students throughout their academic training.
Eligible candidatesare scholars who:
 hold a PhD/LLD/JD in Law (preferably in European Law, Public Law, International Law) or a PhD or equivalent in Political Science/Government/Governance or in relevant/allied field.
 are fluent in English. Fluency in other languages is a benefit.
 have a high standard of research ability.
 have an outstanding research record and publications that are published in peer-reviewed journals, books or other.
 have an experience of at least 2 years in teaching at undergraduate and/or postgraduate level, or any other equivalent academic or professional experience .
 are flexible and capable to prepare and teach courses that are in a wider focus area.
Candidates who do not fulfill all the above criteria may be considered as candidates for Fellowships. Fellows do tutorials and help Lecturers and Professors in the execution of their duties.
Resident Lecturers and Fellows should reside in Greece or be prepared to relocate to Greece. The posts will primarily operate out of the School's facilities in Sounion, Attica, Greece, but teaching out of the facilities in Plaka, Athens will also be required. The offices of the Resident staff are located in the premises of the School in Sounion. The teaching staff is welcome to use the Guesthouse of the EPLO in Sounion as residence at a fee.
Remuneration of faculty will be in accordance with the Rules and Regulations of the EPLO, and the precise amount will be based upon each successful candidate's experience and capacity. Successful candidates shall have the right to special privileges granted to personnel working for international organizations according to the EPLO's Headquarters Agreement. Indicatively, the gross salary of the Resident Lecturers including insurance and retirement plan (as from the 3rd year of service), may be between 30.000 and 40.000 Euro per annum.
Application
Eligible applicants should submit their full curriculum vitae, copies of their degrees and transcripts,and a motivation letter listing their academic, teaching and professional experience along with the names and contact information of two references.
Submission shall be made until 14May, 2021 included, to recruitment@elgs.eu
Selection Process
A high profile selection committee consisted of academics and members of the management of ELGS/EPLO will review all the CVs and they will make a short list. The candidates included in the short list will be invited for an interview before the final selection. The applicants will be assessed by the Faculty Board of the ELGS according to the following criteria:
– academic qualifications
– teaching experience in English
– research record and publications
Candidates are responsible for checking their eligibility requirements to take up the post under Greek immigration regulations and, if shortlisted, they will be required to provide documentary evidence to support their right to reside and work in Greece. Please note that successful applicants will be granted a Letter of Invitation to support their request for a Visa.
The EPLO has every right to withdraw, postpone or cease the recruitment procedure at any phase. Expenses incurred by the Applicant related to this process are their sole responsibility and will not be reimbursed. The EPLO operates as an equal opportunities employer.
All personal data provided by applicants submitting their applications for selection will be processed for the purposes connected to this call or similar calls that will take place in the following 5 years. Therefore,CVs will be safely archived by the ELGS for further consideration. Candidates must provide their personal data in order to enable assessment of application requirements. Applicants are entitled to legally exercise the right to access their personal data, as well as complementary rights such as the right to amend, update or cancel all data that are inaccurate, incomplete or have not been collected in keeping with law provisions.
For more information on the EPLO, please visit www.eplo.int