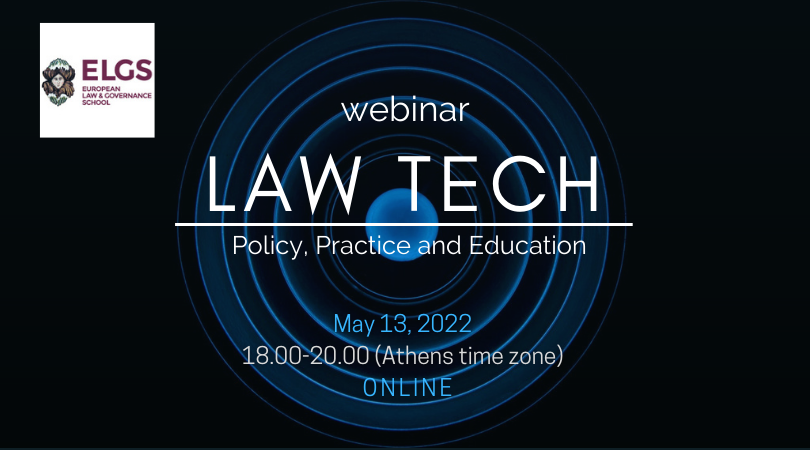 ELGS Webinar
LawTech: Policy, Practice and Education
Date and time: 13 May 2022, h. 18.00-20.00 (Athens time zone)
Zoom Link: https://us02web.zoom.us/webinar/register/WN_ly7lp9lNQDGtfIOXoVxb8w
Join us for FREE
The LawTech industry is growing at an unprecedented pace and LawTech has already entered our everyday lexicon. The cutting edge technology used by LawTech startups is transforming the way legal services are provided. Law firms are seeking ways to adapt, while clients wish to reap all benefits: cost-reduction, quality, speed et alia. At the same time, law schools need to prepare law students for a future where LawTech will be the norm. How can startup founders, law firm partners and legal academics best embrace the incoming tide of changes?
This ELGS webinar is aimed at identifying and deciphering the major trends in the area of LawTech. A combination of expert speakers from academia, legal practice, EU institutions and other fora have been put together in order to contribute to the stimulating discussion about this vibrant area of law and technology. Topics to be covered include LawTech and its relationship with Legal Education, Legal Practice, Startup Ecosystems, FinTech/RegTech and Litigation. Please sign up – we look forward to welcoming you!
WEBINAR AGENDA
18.00-18.05     Welcome Address by Professor Flogaitis, Director of the European Public Law Organization
18.05-18.15     Short Introduction by Professor Christos Gortsos, Director, Department of Public Law, Law School, Athens Kapodistrian University, President of the Academic Council of the European Banking Institute (EBI) Frankfurt
Speakers / Topics
 18.15-18.30
LawTech and Legal Education: Adoption and the way forward
John Armour, Professor of Law and Finance at Oxford University
18.30-18.45
LawTech in Legal Practice
Greg Baker, Global Head of Practice Innovation, Linklaters London
18.45-19.00
LawTech: Lessons for Legal Practice and Academia
Filippo Annunziata, Professor of Financial Markets Law, Bocconi University, Mila
19.00-19.15
The Open Questions of LawTech
Dimitrios Kyriazis, DPhil (Oxon), Postdoctoral researcher (Athens Law School)
LawTech, Legal Hackathons and Legal Design
Maria González-Espejo, CEO at Instituto de Innovacion Legal and President at Innovation in Law Studies Alliance.
19.30-19.45
LawTech: Lessons from FinTech and RegTech
Valia Nikita, Legal Analyst at the ECB
19.45-20.00
LawTech, AI and Courts
Vassilis Karkatzounis, Member of the Scientific Committee for the impact of Artificial Intelligence on the Judicial System, Greek Ministry of Justice
20.00-20.15     Conclusion: Q&A session
  The discussion will be moderated by Prof. Christos Gortsos and the working language is English.